If you know me, you'll know that I often give nicknames out to people I care for and about. It Is very rare that people give me one back in return, maybe hypocritical, but I'm not the biggest fan and always go by Kristina. More time 'Kristina with a K', is my introduction, one that I only got a reprieve from when working with Scandinavia. 
I was given the nickname Casper, by a good friends now husband, during university. It hadn't gone unnoticed that I was always ghost (aka not around) unless I was needed. The same still rings true today. I am not one for the limelight or to be centre of attention. One of the hardest things to acknowledge with speaking up and speaking out on Racism in the UK was that I had to be present and front and centre. Publishing a petition, and my daily article comes with an element of exposure that I would prefer to have avoided if I could.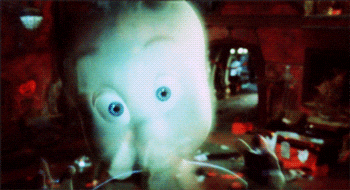 But I am aware that this is not a situation for me to ghost and instead it is necessary to put a face to this, my face! I have mentioned previously that my petition was initially met with a lot of resistance union first release. From the black community, which was the biggest surprise and whilst this shocked me I understood that many did not understand me or the motivation behind the petition or what I hoped to achieve. This led to me writing and publishing my PSA – In the words of Jay-Z…..Allow me to reintroduce myself! A necessity that has proven helpful in assisting people to understand who I am, where I come from and why I care. 
Resistance didn't only come from my community. I was attacked on social media (both Twitter and Instagram) by racists. I expected this going and choose not to focus on the negative. For every 5-10 people that send me racial abuse, there is one who has read my work and thanked me in return for letting them "walk in my shoes". 
What I thought was my biggest challenge was my petition initially getting rejected by the House of Commons Petitions Committee on the grounds that they "can't accept new petitions that make the same request as an existing petition". I was pointed in the direction of some other petitions that they deemed the same as my own (all of which I have signed) but one closed door does not deter me and I published my OPEN LETTER TO THE HOUSE OF COMMONS PETITION COMMITTEE in the hopes to help them better understand how my petition was unique and not a repetition of anything already out there. I was shocked to learn that they had read my words, understood my perspective and were reversing their decision to reject. Something I reflect on in The power of one voice…the courage of one person.
I am Casper the friendly ghost, and I am self aware enough to stand up and admit this.  My preference would be to stay in the background, and I explored options that may have allowed for this to no avail. I am not doing this to become famous, the very idea of that being a consequence of all of this is rather abhorrent. To anyone thinking that is the purpose, I hope you will take some time to read some of the linked articles in this post. During correspondence with the House of Commons Petition Committee, they asked me to confirm I was happy to publish my own personal experience along with my name. I, like many of you saw the backlash and controversy sparked by Nickelodeon's "I Can't Breathe" Commercial. My very experience at the age of 5, shows that even when we don't understand Racism, Black children are still victims of it. Many of these behaviours and words are learned and should be challenged and addressed as soon as they appear. 
At the start of all of this I posted on my socials with a genuine question asking people "what did you do?" When they were at the receiving end of racism. It is a question I also asked myself, as I pondered the best ways for me to help. I acknowledge that my writing is a gift, and I will continue to use it as such. Ive taken it for granted in the past, and although I wrote my first 'story book' aged five and my first two full novels two years ago, I am aware I did not use it as I could and should. It is hard to ask yourself "what did you do?" And face the potential response that you have done nothing. I watched with great interest when Reddit co-founder Alexis Ohanian resigned from the board and urged the seat to be filled by a Black person. He too had asked himself "What did you do?' And wanted to have a concrete answer should his Black daughter one day ask him the same question.
I am not getting paid to campaign for better rights for Black people, I do it because I care. My hope is that if anyone ever asks me in the future "What did you do?" I can answer that I did everything I could, that I gave my best with the confidence that it was enough. My heart is clean and there are no stains on my soul.  
You have heard me say "no man is an island". It is a favourite saying of mine and one which I would like to recognise now. No man is an island. I may have started this journey alone, but I urge all of you to join me. I cannot do this alone, nor do I want to. If you have learnt anything about me thus far, it is that I will not give up. I would like for you all to not give up either. Please help me make a better society for this generation and the next. Racism is multi-faceted, and there is no right or wrong way to address it. It may be attacked from all angles but I believe a big part of that is education and re-education.
SIGN THE PETITION. SHARE THE PETITION. BE PART OF THE SOLUTION WITH ME AND NOT PART OF THE PROBLEM.
https://petition.parliament.uk/petitions/323654
Thank you x